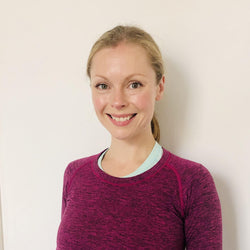 FRANKIE ALMOND
Frankie Almond | Yoga Maven on a Mission
Embark on a transformative journey from the hustle of city life to yogic serenity with Frankie Almond, an ex-Londoner turned yogi extraordinaire. Before her yoga odyssey, Frankie's mind was a constant whirlwind, racing through endless to-do lists and navigating the hectic lives of three busy bankers. Seeking clarity, peace, and relaxation, she turned to yoga, only to find it challenging at first.
Her initial 45 minutes on the mat were filled with worries about collapsing arms in downward dog and burning thighs in utkatasana. Yet, amidst the physical challenges, the moment of blissful savasana revealed a profound revelation – not a single worry about work had crossed her mind. With dedication and practice, the poses became easier, but the sensation of a clear, focused mind persisted, enhancing her daily life.
Now, as a certified yoga teacher, Frankie invites you to experience the magic of yoga. Her classes are a dynamic fusion of strong, flowing Vinyasa rooted in grounding Ashtanga. Frankie passionately believes that yoga is for everyone, not just the bendy few. She guides practitioners of all levels, bringing mental clarity and physical agility to each session.
With a commitment to continuous growth, Frankie has earned her stripes as a 500-hour Advanced Certified Teacher under the tutelage of renowned teacher Jason Crandell. Join Frankie on the mat and unlock the transformative power of yoga. Book a class with her today and step into a world where clarity of mind meets strength of body.