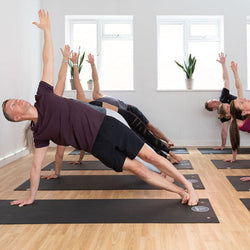 Hot Flow ***
Hot Flow is a fantastic blend of traditional Hot Yoga with Hatha Yoga poses to reduce stress and leave you feeling relaxed and revived. Room is heated to 38C and moves at a slower rate with dynamic moves. All levels welcome.
*** Sweat Level 3: This class is of a high intensity.
Cancellation Policy:
A late cancellation fee of £10  will apply if the cancellation occurs within two hours of the scheduled start time of the class.