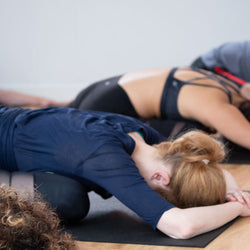 Heated Yin into Meditation *
Yin is a deeply relaxing, meditative form of yoga performed in a comfortably warm room.

In Yin you hold seated and lying stretches for 3-6 minutes. These long, gradual stretches are used because they allow deep tissues (fascia) within our body to be stretched, and give the body time to relax fully into the postures. When we take the time to allow these tissues to stretch we can open the body more fully. This practice works really well both for beginners and for those who already have a more dynamic practice. 

The slower pace of Yin gives an opportunity to explore the meditative aspects of yoga, using techniques such as mindfulness. Yin is about finding stillness and softness, acceptance of our situation. Through Yin Yoga we can achieve stillness, the ability to be comfortable with our own body, softening and releasing. Yin Yoga classes emphasise this to provide a counter-balance to our modern Western lives: we need both yin and yang to come into balance.
* Sweat Level 1: This class is of a light intensity.
Cancellation Policy:
A late cancellation fee of £10  will apply if the cancellation occurs within two hours of the scheduled start time of the class.